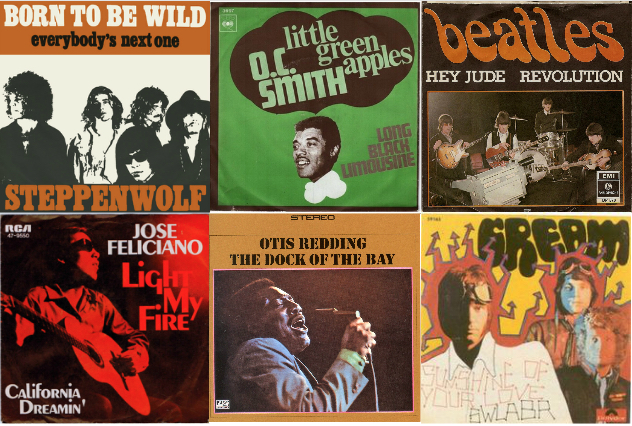 When we think back to 1968 our first thoughts are the springtime assassinations of Martin Luther King Jr. and Robert F. Kennedy within two months of each year (see #18 below). Other memorable events of that year include the musical Hair opening on Broadway, civil rights activism, Rowan & Martin's Laugh-In's TV debut, Detroit Tigers pitcher Denny McLain winning 31 games, and NBC's infamous Heidi game between the New York Jets and Oakland Raiders.
On the radio that year on Boston's Top 40 WRKO, some all-time favorite classic rock hits ruled the airwaves.
At #38 for the year was the Moody Blues' "Tuesday Afternoon" from the band's great Days of Future Passed concept album. The song peaked at only #24 nationally earlier that year.
Donovan's third-highest U.S. chart hit was "Hurdy Gurdy Man," reaching #5. It was #36 for the year.
Judy Collins' version of Joni Mitchell's "Both Sides Now" was the biggest hit of her career, peaking at #8, and the 35th biggest hit of 1968.
One of the Rolling Stones' signature songs, "Jumpin' Jack Flash," was #31 for the year.
Sergio Mendes & Brasil '66 enjoyed two huge 1968 hits: "The Fool on the Hill" (#37) and "Look of Love" (#28). Gary Puckett & the Union Gap topped that with three hits: "Lady Willpower" (#49), "Over You" (#29) and "Young Girl" (#23).
Not to be outdone was Steppenwolf with "Born to Be Wild" (#32) and "Magic Carpet Ride" (#21).
"Abraham, Martin and John" at #18 was, of course, inspired by the slayings of Dr. King and Senator Kennedy and was the last of Dion's nine Top 10 career hits.
At #15 for the year, "Sunshine Of Your Love" was also Cream's first U.S. chart hit; three others had charted in their native England.
One of two career #1 hits for The Doors, "Hello, I Love You," was the year's #13 biggest hit. Mary Hopkin's unlikely smash, "Those Were the Days," was #11.
The Grass Roots enjoyed six Top 20 singles; "Midnight Confessions," at #10 for the year, was their biggest chart hit.
The Rascals scored two huge hits with "A Beautiful Morning" (#17) and "People Got to Be Free (#9). "People Got To Be Free" was #1 for five weeks during the summer, one of three chart-toppers that The Rascals enjoyed. ("Good Lovin'" and "Groovin'" were the others.)
Otis Redding's posthumous hit "(Sittin' on) The Dock of the Bay" was #5 overall. Herb Alpert's biggest hit is doubly notable: it's without the Tijuana Brass and he sings. We're talking, of course, about "This Guy's in Love With You," at #4 for the year.
The Beatles had two huge hits including "Lady Madonna" at #20. And if you haven't seen this restored version of "Hey Jude," 1968's biggest hit, you're in for a treat…
Don't miss a post! Sign up for Best Classic Bands' Newsletter; form is on every page.
20. "Lady Madonna" – The Beatles
19. "MacArthur Park" – Richard Harris
18. "Abraham, Martin & John" – Dion
17. "A Beautiful Morning" – The Rascals
16. "Spooky" – Classics IV
15. "Sunshine Of Your Love" – Cream
14. "Little Green Apples" – O.C. Smith
13. "Hello I Love You" – The Doors
12. "(Theme From) Valley of the Dolls" – Dionne Warwick
11. "Those Were The Days" – Mary Hopkin
10. "Midnight Confessions" – The Grass Roots
9. "People Got To Be Free" – The Rascals
8. "Mrs. Robinson" – Simon and Garfunkel
7. "Harper Valley PTA" – Jeannie C. Riley
6. "Light My Fire" – Jose Feliciano
5. "The Dock of the Bay" – Otis Redding
4. "This Guy's In Love With You" – Herb Alpert
3. "Honey" – Bobby Goldsboro
2. "Love is Blue" – Paul Mauriat and His Orchestra
1. "Hey Jude" – The Beatles

The BCB team brings you the latest Breaking News, Contests, On This Day rock history stories, Classic Videos, retro-Charts and more.

Latest posts by Best Classic Bands Staff (see all)