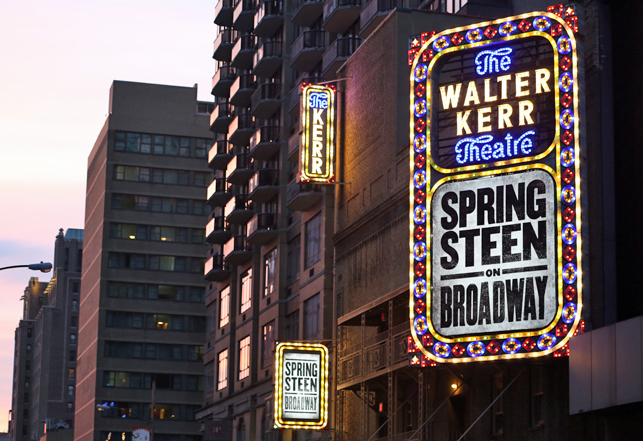 Last night (Oct. 12) was opening night for Bruce Springsteen's highly touted run of shows on Broadway. A press preview took place the night before and critical opinion, though largely favorable, also included some complaints.
For the shows—which will continue five nights a week into February—Springsteen is performing solo (except for a brief appearance by wife and bandmate Patti Scialfa), playing both guitar and piano. Because the Walter Kerr Theater holds less than 1,000 people, at times he did not use a microphone when addressing the crowd.
From initial reports (he played a week's worth of previews prior to the opening), Springsteen is sticking to a fixed setlist and telling stories from his life, most of them told in his memoir, Born to Run. (One review noted that he seemed to be reading from a teleprompter.) Fans—some of whom paid four-figure sums for the privilege of being there—have been raving about the shows on social media. We thought it would be interesting to see what the critics said.
Following are excerpts from the early reviews:
The New York Times: "'Springsteen on Broadway' is a painful if thrilling summing-up at 68: a major statement about a life's work, but also a major revision of it. As music acts go, it thus has more in common with Lena Horne's revelatory 'The Lady and Her Music' from 1981 than with a greatest-hits concert by the likes of Barry Manilow. Call it a greatest anti-hits concert: Many of the songs Mr. Springsteen has chosen to sing are less familiar and more meditative than his chart-toppers, and those that were chart-toppers are almost unrecognizable… Admittedly, this is a well honed story, a self-portrait of a mask. There have been many such masks over the years — mama's boy, loner, stadium stud, Woody Guthrie — each developed through songs that would seem to cancel each other out… Indeed, as portraits of artists go, there may never have been anything as real — and beautiful — on Broadway."
Rolling Stone: "Overall, the show's inherent lack of spontaneity will be a little jarring for those that have followed Bruce for decades, especially when it becomes clear he's reading much of his dialogue from a large teleprompter suspended above the audience. But there's an incredible power to sitting so close from him while he strums a guitar or noodles around on the piano and tells his life story in rich detail, down to the green felt of his first guitar case when he was a kid. Each segment is designed for maximum emotional impact, and time and time again he reflects on his own mortality…'Springsteen on Broadway' is a fresh, powerful artistic achievement in its own right – a man who's a couple of years away from his 70th birthday confronting his past and putting it all into a new and unique context. But it's still hard not to hope that a great new album is next, and that there are still plenty of chapters left to write in this singular life story."
Los Angeles Times: "With its scripted dialogue and its precisely calibrated musical arrangements—at times, you could hear the clicking of Springsteen's fingers on his guitar strings—the production is looking for some unexplored middle ground between the two: It wants to use theatrical convention to bring the audience into Springsteen's mind, not to celebrate but to illuminate… Nobody on Wednesday had tried with any seriousness to sing along until 'Dancing in the Dark'; it hadn't felt appropriate, or even possible, in a way…When that changed, though, it turned out that Springsteen wasn't ready for it, which felt almost like a betrayal. Earlier, his inward focus had seemed like a gift, but now it had a punishing quality that only deepened when he closed the concert with a dour, blah-sounding rendition of 'Born to Run.'…He'd taken away the joy and the release that the E Street Band doles out but was no longer replacing it with any fresh introspection; you suddenly longed to be in a much larger room with many more people."
Related: 10 reasons why Springsteen was born to run forever
NJ.com: "Sorry to break the bad news, Bruce fans, but Springsteen's choice to develop this four-month residency in New York by himself, without the help of a stage-savvy director, has proven a cavalier and foolish decision by the rock icon—the arc of this disjointed production is saved only by its music and the exclusivity of its venue. He would've saved himself some trouble simply rocking a straight, two-hour acoustic set and selling his audiobook with the candy and cocktails… I left 'Springsteen on Broadway' wondering what Bruce actually created here, besides increased visibility for Ticketmaster's polarizing new Verified Fan selection method, and a celebration of his most affluent supporters in a ritzy Broadway setting his working-man characters couldn't begin to afford."
The New Yorker: "He's trying…to reach the parts of us that are not so close. Springsteen's mission has always been to be a useful conduit—to reflect or articulate something back at us. But he is a model, too, and 'Springsteen on Broadway' contains suggestions on how to age: admit your flaws and inconsistencies, your put-ons, your masks, your fears and humiliations. Make room for them. Find freedom in the revelation. Let it lead to more art."
The Washington Post: "It's elegant, it's austere, it's moving. And oh my God, it's Bruce… What Springsteen has turned on, in his sold-out, four-month stand at the Kerr, is something on the order of revolutionary: a world-class singer-songwriter from the precincts of rock, a megastar parking his talent on Broadway for an extended period… 'Springsteen on Broadway' erases any last whiffs of Broadway squareness that were not totally eradicated by 'The Book of Mormon' and 'Hamilton.'"
Watch a brief AP clip from opening night

The BCB team brings you the latest Breaking News, Contests, On This Day rock history stories, Classic Videos, retro-Charts and more.

Latest posts by Best Classic Bands Staff (see all)