The Rolling Stones' Their Satanic Majesties Request album will receive an elaborate 50th anniversary limited edition with the Sept. 22 release of a deluxe double vinyl/double hybrid Super Audio CD (SACD) package via ABKCO Music. The set contains both the stereo and mono versions of every song, all newly remastered by 11-time Grammy winner Bob Ludwig. This 50th Anniversary Special Edition will feature Michael Cooper's original 3-D lenticular cover photograph, featuring the band in peak psychedelic regalia.
December 1967's Their Satanic Majesties Request was originally mixed in both stereo and mono, as was standard practice at the time. The new edition will include the entire album on 180 gram vinyl in stereo, another 180 gram vinyl record in mono, and two hybrid Super Audio CDs (one in stereo and one in mono). Each disc includes the entire musical content in both Super Audio CD (SACD), as well as standard CD, providing for complete backward and forward hardware compatibility. Pre-order the set here. Watch the unboxing video below.
Their Satanic Majesties Request was the first self-produced album in the Stones' vast catalog. Experimental in nature, it was such a departure from the band's rhythm and blues roots that it threw critics for a loop. The record was lauded by DownBeat with a five-star review declaring the album "a revolutionary event in modern pop music."
The July 31 announcement notes that the title was derived from a pun based on the inside of British passports at the time which read, "Her Britannic Majesties Principal Secretary of State for Foreign Affairs Requests and Requires . . ." Their Satanic Majesties Request was recorded between February and October of 1967. The ABKCO release further notes: "It was a tumultuous period for the Rolling Stones – Mick Jagger, Keith Richards and Brian Jones were arrested for drug possession, with Jones spending three weeks in a nursing home. The Stones' original manager/producer Andrew Loog Oldham quit halfway through recording sessions, leaving the band to finish the album on their own. A chaotic spring European tour that involved a riot in Poland also interrupted work flow. Very rarely were all five members in the studio at the same time but despite these impediments, Charlie Watts recalled, 'The sessions were a lot of fun because you could do anything. It was so druggy—acid and all that.'"
Grammy award winning music historian Rob Bowman writes in the liner notes for the new set, "Their Satanic Majesties Request should be recognized as an important stepping stone in the Rolling Stones' development from an r&b-inspired band to the inventors of modern rock for the 1970s."
The LP followed 1967's Between the Buttons and preceded 1968's Beggars Banquet, and was the first of the band's albums to have identical tracklists in the U.S. and U.K. Its 10 tunes are saturated with studio effects, non-traditional instruments such as mellotron and theremin, ambient sounds created using oscillators, and string arrangements by a pre-Led Zeppelin John Paul Jones.
The LP reached #3 in the U.K. and #2 in the U.S. The album's lone minor hit, "She's a Rainbow," and "2000 Light Years From Home" are said to be the only two songs from the album the band has ever played live.
Watch the amazing lyric video for "2000 Light Years From Home"
Offered as a single just before the album's release, "In Another Land" is the only Stones song both written and sung by Bill Wyman who, from the ABKCO announcement, "took advantage of the fact that he was the lone member who showed up to the studio one day. The Small Faces happened to be recording next door, so Steve Marriott and Ronnie Lane were invited to contribute backing vocals, with Marriott also providing 12-string acoustic guitar. With Brian Jones on mellotron, Stones cohort Nicky Hopkins on harpsichord and Charlie Watts on drums, Mick and Keith laid down backing vocals, making it a complete Stones affair."
Related: Our interview with ABKCO's chief audio engineer
More from the announcement: "British photographer Michael Cooper–who had created the immaculate art for the Beatles' Sgt. Pepper's Lonely Hearts Club Band earlier in 1967, was hired by the Stones to make something equally striking. All four Beatles' likenesses can be seen popping out of flowers, surrounding a photograph of the Stones in technicolor garb. Cooper used a rare 3-D camera, employing lenticular technology – when the cover is tilted, the image changes, and every member except for wizard-hatted Mick appear to be moving their heads. Reproduction of the lenticular cover proved costly, and it was eliminated from many subsequent pressings of the album, being replaced by a still image. This 50th Anniversary edition restores the original lenticular art, and the discs are housed in a bespoke fold-out album limited edition numbered package with a 20-page book including more of Cooper's photos from the original session, expanding on what the record-buying public saw in 1967."
Watch the official unboxing video
Their Satanic Majesties Request 50th Anniversary Special Deluxe Edition Track Listing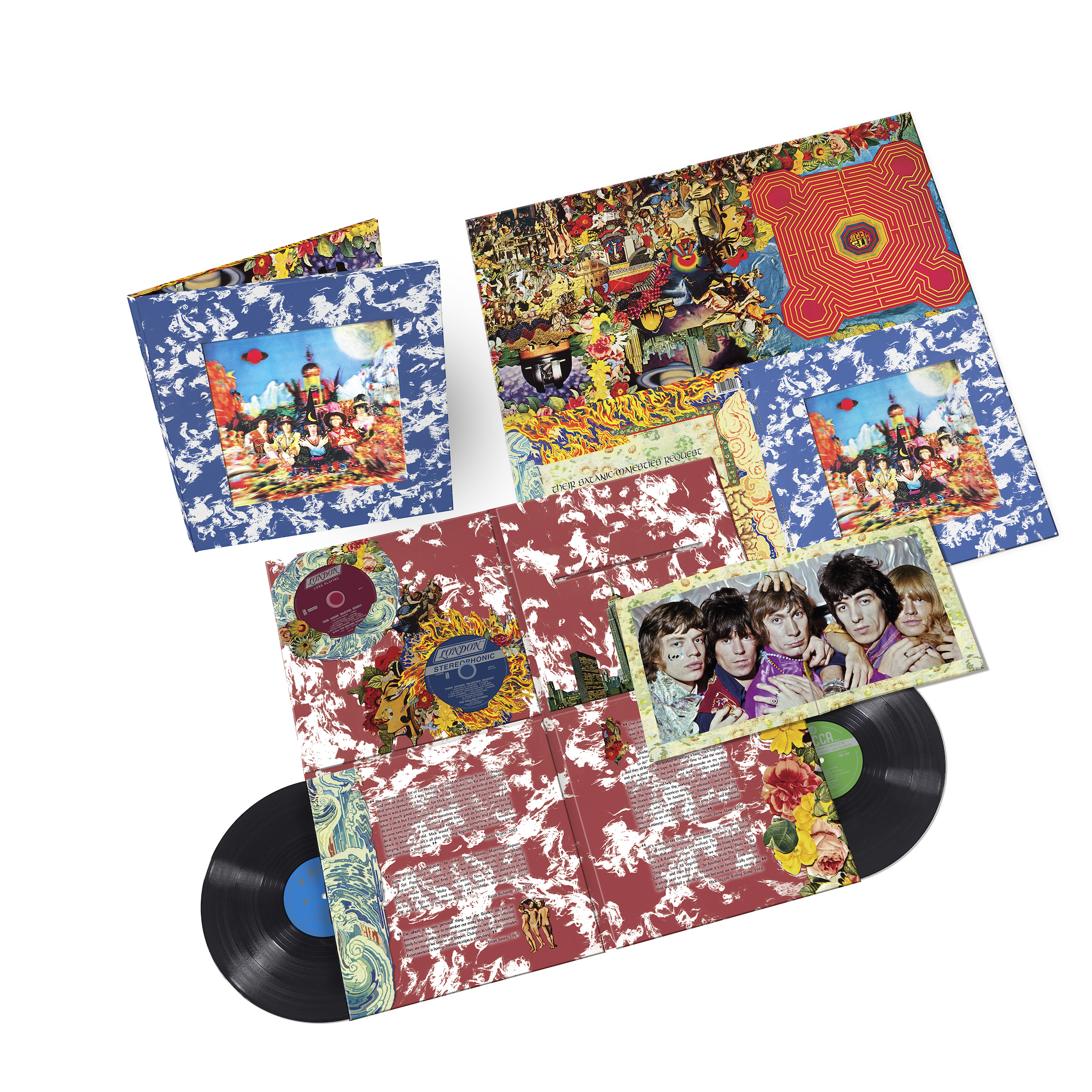 LP 1 and Hybrid SACD 1 (Stereo)
1. Sing This All Together
2. Citadel
3. In Another Land
4. 2000 Man
5. Sing This All Together (See What Happens)
6. She's A Rainbow
7. The Lantern
8. Gomper
9. 2000 Light Years From Home
10. On With The Show
LP 2 and Hybrid SACD 2 (Mono)
1. Sing This All Together
2. Citadel
3. In Another Land
4. 2000 Man
5. Sing This All Together (See What Happens)
6. She's A Rainbow
7. The Lantern
8. Gomper
9. 2000 Light Years From Home
10. On With The Show

The BCB team brings you the latest Breaking News, Contests, On This Day rock history stories, Classic Videos, retro-Charts and more.

Latest posts by Best Classic Bands Staff (see all)