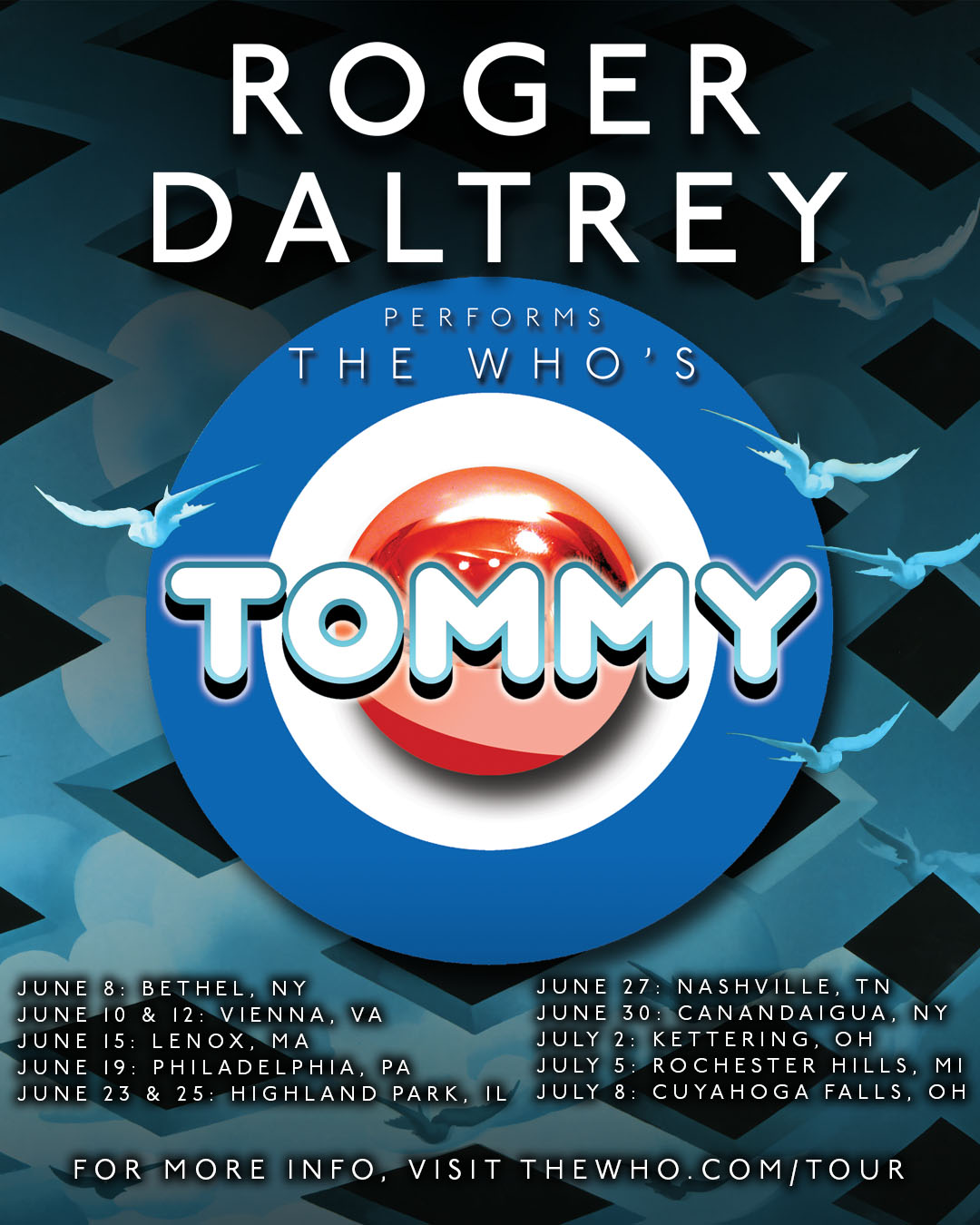 With Pete Townshend having said that The Who are taking a break this year, Roger Daltrey is filling his own schedule with a variety of projects, including concerts, an autobiography and a solo album.
On Jan. 29, Daltrey announced that he will perform a series of concerts this summer featuring The Who's Tommy. (On Jan. 24, we reported that he would be performing the rock opera at Tanglewood [in Lenox, Mass.] with the Boston Pops.)
An additional 11 shows were revealed, including a concert at Bethel Woods in Bethel, NY, the site of the original 1969 Woodstock Festival where The Who famously performed.
On Feb. 1, a date was announced at Forest Hills Stadium in New York City, the site of a 1971 two-night stand by The Who.
For this tour, Daltrey will be accompanied by members of The Who touring band plus various orchestras. Tickets are available here.
The group's primary lead vocalist played five dates last fall with several members of The Who's band including Simon Townshend, Jon Button, Scott Devours, Loren Gold and Frank Simes. He's already scheduled several other dates for this year. (See dates below.)
Watch Daltrey perform "Eyesight to the Blind" from Tommy with The Who at Tanglewood in 1970
As we reported last October, Daltrey is writing his memoir, and says it will be on the shelves in August. (The book will be published by Blink Publishing in the U.K. and Henry Holt and Co. in the United States.)
As he told Rolling Stone, "It's taken three years to unpack the events of my life, to remember who did what when and why, to separate the myths from the reality, to unravel what really happened at the Holiday Inn on Keith Moon's 21st birthday…I hope the result is more than just another autobiography. I've witnessed society, music and culture change beyond recognition."
His brief concert run last fall, cleverly billed as "A Quick Run (While Pete's Away)," featured Who classic rock favorites and rarities as well as several songs from his various solo albums. He closed the shows with a new song, "Heading Home," from his upcoming album. He has released many of his own albums, in between Who tours, dating back to 1973's Daltrey. His last was 1992's Rocks in My Head. In 2014, he released a collaboration with Wilko Johnson.
Watch Daltrey and the band perform the new song on October 30, 2017
Related: "While Pete's Away"… Townshend is assisting his wife, Rachel Fuller, on her new musical
Watch them play a Who's Next song that's rarely performed at a Who concert
The Guv'nor and band play a Who favorite
Thanks to Lauren Eastman for the excellent videos!
Related: Our recap of Daltrey's Oct. 30 show, including the setlist
Roger Daltrey 2018 Tour Dates (Tickets are available here and here)
March 07 – Las Vegas, NV – The Joint at The Hard Rock Hotel & Casino
March 10 – Las Vegas, NV – The Joint at The Hard Rock Hotel & Casino
March 13 – Stockton, CA – Bob Hope Theatre
March 15 – Oakland, CA – Fox Theater
March 22 – London, UK – Royal Albert Hall
Roger Daltrey Performs The Who's Tommy Tour Dates
June 08 – Bethel, NY – Bethel Woods for the Arts (with the Hudson Valley Philharmonic Orch.)
June 10 – Vienna, VA – The Wolf Trap (with the Wolf Trap Orchestra)
June 12 – Vienna, VA – The Wolf Trap (with the Wolf Trap Orchestra)
June 15 – Lenox, MA – Tanglewood (with the Boston Pops)
June 17 – New York, NY – Forest Hills Stadium (with the New York Pops)
June 19 – Philadelphia, PA – Mann Center for the Perf. Arts (with the Chamber Orchestra of Philadelphia)
June 23 – Highland Park, IL – Ravinia Festival (with the Ravinia Festival Orchestra)
June 25 – Highland Park, IL – Ravinia Festival (with the Ravinia Festival Orchestra)
June 27 – Nashville, TN – Ascend Amphitheater (with the Nashville Symphony Orchestra)
June 30 – Canandaigua, NY – CMAC (with orchestra TBA)
July 02 – Kettering, OH – Fraze Pavillion (Dayton Philharmonic Orchestra)
July 05 – Rochester Hills, MI – Meadow Brook Amphitheater (with the Detroit Symphony Orchestra)
July 08 – Cuyahoga Falls, OH – Blossom Music Center (with the Cleveland Orchestra)

The BCB team brings you the latest Breaking News, Contests, On This Day rock history stories, Classic Videos, retro-Charts and more.

Latest posts by Best Classic Bands Staff (see all)