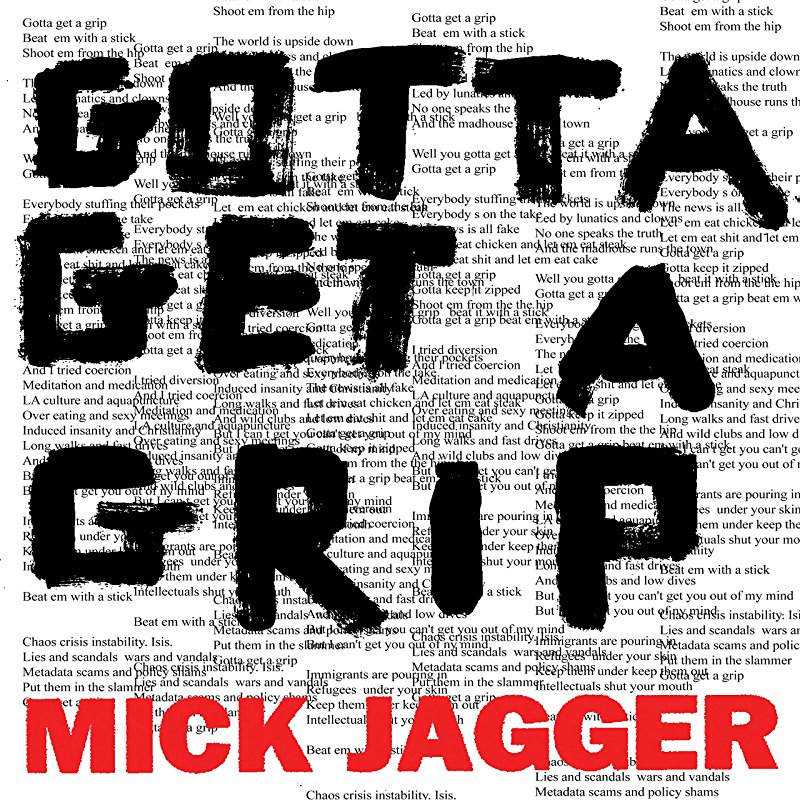 A pair of new solo songs by Mick Jagger has been posted online to various streaming sites (including Spotify and Apple Music) and made available for purchase on CD and vinyl. A total of seven different videos—two of them "official," four of them remixes of the track "Gotta Get a Grip" and the last a remix of the second song, "England Lost," have also been released. Scroll down to watch all seven
Jagger posted on his Facebook page, "I'm excited to share new music with you! I started writing these two songs a few weeks back and wanted to get them out to you straight away. I feel a slight throwback to a time when you could be a bit more free and easy by recording and putting it out there immediately. Enjoy them. MJ"
Pre-order it here.
Both songs can be described as political lyrically. In one verse of "Gotta Get a Grip," Jagger sings: "Everybody's stuffing their pockets/Everybody's on the take/The news is all fake/Let 'em eat chicken and let 'em eat steak/Let 'em eat shit, let 'em eat cake," while in another verse he continues: "I tried diversion and I tried coercion/Meditation and medication/LA culture and acupuncture/Overeating and sex in meetings/Induced insanity, Christianity/Long walks and fast drives and wild clubs and low dives/I pushed and I strived/But I can't get you, can't get you/Can't get you out of my mind/Gotta get a grip."
Related: Keith Richards says the Stones will start recording again soon
Watch the official video of "England Lost"
Watch the official video of "Gotta Get a Grip"
One remix of "Gotta Get a Grip" features British rapper Skepta. Jagger posted, "Right from the off when I started writing England Lost, I imagined having a British rapper on the track. Skepta stepped in at a moments notice and I just loved what he did."
The full lyric video for that mix can be seen here.
Here's the Matt Clifford remix of "Gotta Get a Grip"
And the Alok remix…
The Kevin Parker (of psychedelic indie band, Tame Impala) remix…
And, finally, the Seeb remix

The BCB team brings you the latest Breaking News, Contests, On This Day rock history stories, Classic Videos, retro-Charts and more.

Latest posts by Best Classic Bands Staff (see all)