Review: Yes, ELO, Journey Shine on HBO's Rock Hall 2017 Broadcast
by Greg Brodsky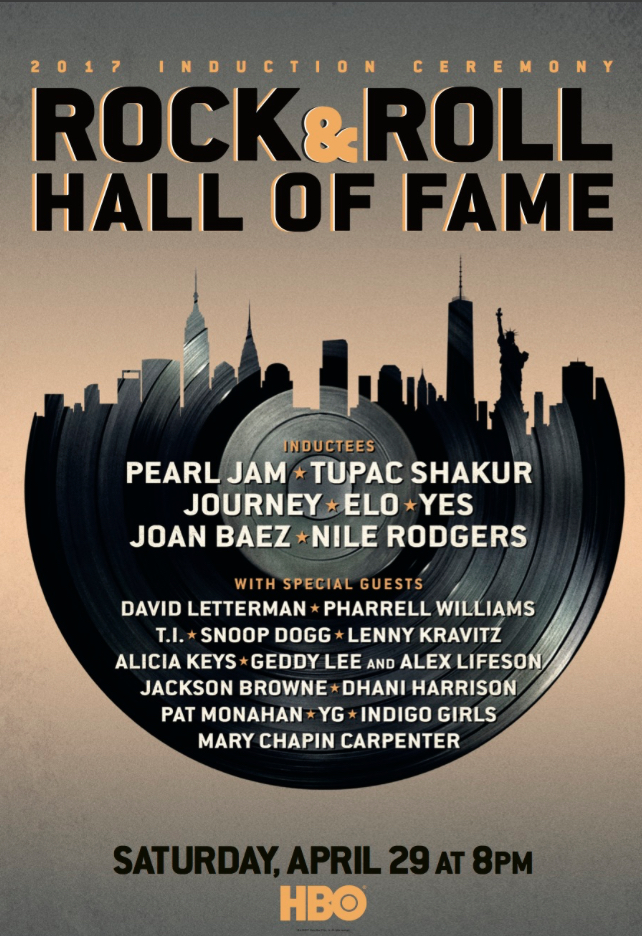 Warning: If you're looking to watch the 2017 version of a memorable all-star jam, the broadcast of this year's Rock Hall 2017 Induction Ceremony might not be the show for you. This wasn't the year to see such A-Listers as Bruce Springsteen, Mick Jagger, and Billy Joel share the stage with Tom Petty and John Fogerty. But if you're looking for validation that some of the most-overlooked bands in classic rock deserved to be side-by-side with their peers that are already members of the Rock and Roll Hall of Fame, well, you'll want to tune-in this Saturday night, April 29, from 8 – 11 ET/PT, and watch HBO's broadcast.
It's been well-documented that the Hall's induction committee has overlooked plenty of bands with long-running success on the charts and at sold-out arenas around the globe. But in recent years, such acts as Chicago, Steve Miller, Cheap Trick, Hall & Oates, Heart and Rush (more on them in a moment)–each of which have been eligible for well over a decade–finally got in.
Insiders would deny it, but the licensing fee and production costs borne by HBO essentially demands star power for the broadcast, i.e., big name inductees and their inductors. (Nile Rodgers, who was included in this year's class with an Award for Musical Excellence, was introduced by the estimable Pharrell Williams. Snoop Dogg did the honors for the late rapper, Tupac Shakur.) This paved the way for a trio of classic rock-era inductees.
We're talking, of course, about the Electric Light Orchestra, Yes and Journey, never critical favorites and hugely different from each other. But for many years in the '70s and '80s, their albums and singles were side-by-side on the charts and their tour buses likely criss-crossed the highways as they sped from gig to sold-out gig.
On HBO's 2017 Rock and Roll Hall of Fame Induction Ceremony, magnificently directed by Alex Coletti (who also produced it) at the Barclays Center in Brooklyn, NY, numerous members of each of those bands expressed their gratitude to the Hall for opening its doors. "It's been a long road, I'll tell you that," says ELO co-founder Jeff Lynne, who was one of just two of the group's four inductees to attend.
Drummer Bev Bevan had previously announced that he couldn't attend due to a conflict. Keyboardist Richard Tandy was a surprising no-show, given that he's a member of Jeff Lynne's ELO–their current legal billing. Roy Wood joined Lynne onstage after Dhani Harrison's charming introduction which references his father, George. ("He loved ELO, the Beatles loved ELO"). Wood and Lynne embrace, Wood speaks for about 10 seconds and leaves the rest to Lynne.
The maestro and his excellent current lineup opened the show with "Roll Over Beethoven," which the band recorded in 1972 for their second LP. It served as a logical way to acknowledge its composer who died in March. Says Rock Hall co-founder Jann Wenner: "Thirty-two years ago, the very first person inducted in the Hall of Fame was Chuck Berry. No one in this room would be here tonight but for this man."
A brief film features glowing tributes from the likes of Eric Clapton, Paul McCartney and John Lennon. Keith Richards: "He gave me my mission."
Lynne and company return to play two signature songs: "Evil Woman" and "Mr. Blue Sky."
Next up was Jackson Browne's speech for a trailblazing folk singer. "The first record I ever bought with my own money was Joan Baez's second album. The purity of her voice was intoxicating. Almost immediately she introduced her audiences to the songs of Bob Dylan."
In her speech, Baez notes: "It gives me enormous pleasure to accept this prestigious and very cool award tonight. I was lucky enough to have found my voice when coffee shops were the order of the day." On her second performance, she's joined onstage by the Indigo Girls and Mary Chapin Carpenter.
In introducing Yes, Rush's Alex Lifeson and Geddy Lee heaped praise on their fellow prog rockers. "And we thought we waited a long time to get into the Hall of Fame," jokes Lee.
Two current entities share the legal rights to call themselves Yes. There's the group that was founded by the late bassist Chris Squire in 1968 that counts veterans Steve Howe (guitar) and Alan White (drums) among its members. And there's Yes featuring (Jon) Anderson (vocals), (Trevor) Rabin (guitar) and (Rick) Wakeman (keyboards), which formed in 2016. On this note, the factions gamely share the stage, though if there was any camaraderie director Coletti doesn't show it.
The broadcast features speeches by Anderson, Howe and Wakeman, and if you've heard about the latter's off-color jokes–including one about a prostate exam–you'll want to pay attention.
A highlight of the evening was the combined Yes putting aside whatever differences they have with stellar performances of two of their best-known songs: their breakthrough 1972 hit, "Roundabout," and their #1 smash more than a decade later, "Owner of a Lonely Heart." On the former, Rush's Lee joins on bass, filling in for Squire, who died in 2015. Coletti offers superb close-ups of Anderson and Lee, who are in ecstasy. And there's a great tight shot of Howe who is seen playing the flamenco-style guitar part towards the song's end.
"Owner of a Lonely Heart" gives its principal songwriter, Rabin, his chance to shine on guitar with the versatile Howe moving over to play bass.
Later in the evening, the filmed tribute to Journey announces itself with their hit "Any Way You Want It." And Train frontman Pat Monahan shares: "It isn't just my honor to induct these gentlemen tonight. It is my appointed duty to induct the heart of San Francisco music into the Rock and Roll Hall of Fame. And it's about damn time…"
Soon after, co-founder/guitarist Neal Schon and longtime vocalist Steve Perry–who left the band a full two decades ago–climb the stage and hug, filling the arena with the warm embrace their fans have longed for. In his speech, Schon says, "This is so long time coming, I thought it would never happen. I'm so proud to be up here with all these men. I love all you guys. Steve Perry… you're one in a million."
Keyboardist Jonathan Cain who replaced original member Gregg Rolie, and co-wrote many of the band's biggest hits including "Separate Ways (Worlds Apart)" and "Don't Stop Believin'," relays a conversation with his father years earlier: "'Son, don't stop believing' on a life-changing phone call as I struggled with my career back in the '70s."
It's only Perry's second public appearance with members of Journey since he left the band and when they perform their hit "Lights" sans Perry, Schon dedicates it to their former lead singer.
There's a bit of unintentional comedy throughout the night as the cameras occasionally focus on middle-aged men dressed in business attire bobbing their heads to the action onstage. But as numerous inductees have stated, they couldn't have achieved their success without their fans.
The broadcast winds up with a performance by another inductee, Pearl Jam, and closes with members of the night's earlier inductees taking the stage to perform Neil Young's "Rockin' in the Free World."
Watch a preview of the HBO broadcast…

Best Classic Bands Founder/CEO Greg Brodsky earned his first professional bylines as a reporter for the music trade weekly Record World. He still has all his vinyl albums and enjoys going to flea markets and garage sales to grow his collection.

Latest posts by Greg Brodsky (see all)