Butch Trucks, one of the two drummers in the Allman Brothers Band, passed away on Tuesday, Jan. 24, in West Palm Beach, Florida. The cause of death was not been initially revealed but new information today strongly suggests Trucks took his own life. (See update below for details of what is known thus far.) Butch Trucks was 69.
Along with the band's other drummer, Jai Johanny Johanson, known as Jaimoe, Trucks was a founding member of the Southern Rock giants, along with Gregg and Duane Allman, Dickey Betts and Berry Oakley. Duane Allman and Oakley precede him in death.
A statement Wednesday morning on the Facebook page of Satisfied Entertainment, which represented Trucks, reads, "We are beyond saddened by the news of drummer and founding member of the Allman Brothers Band that Butch Trucks has passed away around 10PM last night at the age of 69. Our heavy hearts, prayers and condolences go out to the entire Trucks family, continued family and music fans everywhere."
Update (Jan. 26): Reports are emerging today that Trucks' death was a suicide. According to several online posts by various news agencies, most traced to England's Daily Mail as the originator, Trucks shot himself in the head in his wife Melinda's presence Tuesday night at their West Palm Beach, Florida, condo at around 6 p.m. The source article states that a 911 emergency recording exists of a "frantic" call made by Melinda. When police arrived, the report states, Trucks was still breathing but "expired seconds later."
The Daily Mail piece gives no indication as to the reason for Trucks' action, however, it does mention that he had been undergoing financial difficulties. Trucks had a full slate of tour dates planned with his band Butch Trucks and the Freight Train. A section of that itinerary, taken from the band's Facebook page, is below.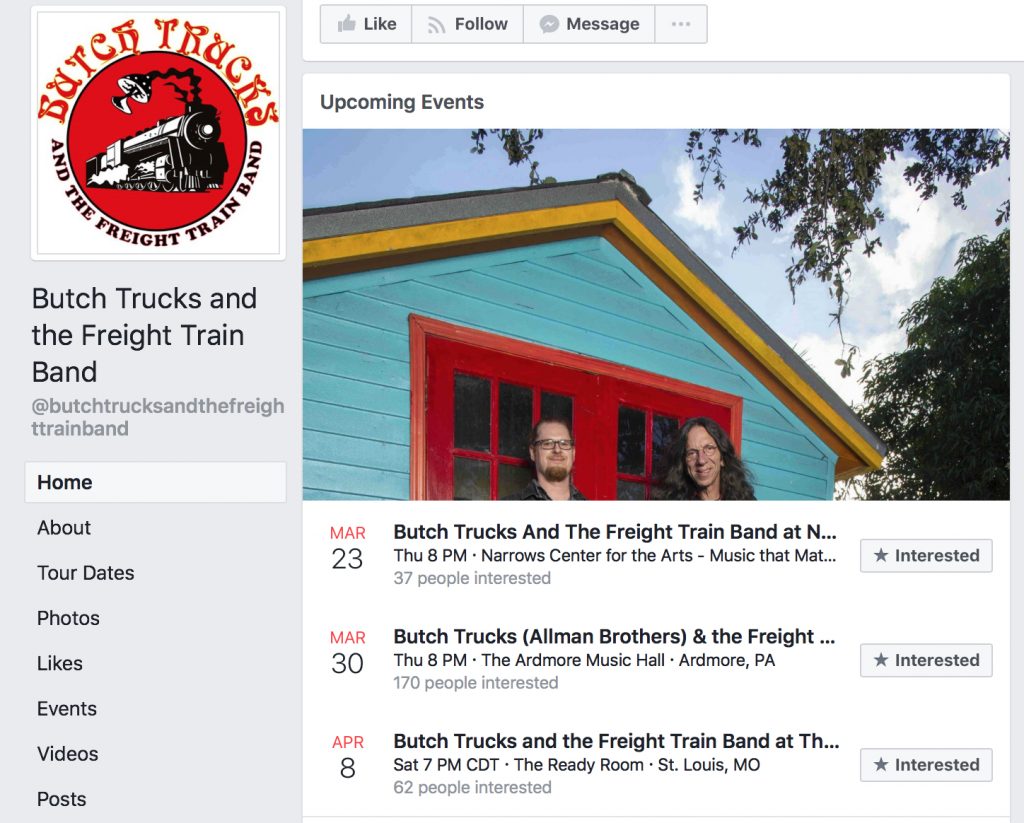 Related: Gregg Allman concerts newly rescheduled for summer
Claude Hudson Trucks was born May 11, 1947, in Jacksonville, Florida, and played with local bands such as the Vikings and the 31st of February in the mid-'60s. The latter band included both guitarist Duane Allman and keyboardist Gregg Allman, who had both been in a band called the Hour Glass. By 1969. Duane was enjoying success as a session musician but was becoming frustrated with the lack of control he had as a player. He and Gregg put together the Allman Brothers Band that year, featuring Trucks and Jaimoe on drums, Betts on second guitar and Oakley on bass.  They recorded their self-titled debut album that same year and Idlewild South in 1970 but the group's reputation truly took off in 1971 with the release of At Fillmore East, often called the greatest live album of all time. The release of 1972's Eat a Peach solidified the ABB's place at the top of the American rock pantheon and while the deaths of Duane in 1971 and Oakley the following year naturally altered the group's personnel in a big way, their popularity only increased.
Although the group's history was filled with many highs and lows, Trucks, along with Gregg Allman, remained a member of the Allman Brothers Band throughout their entire career. The Allman Brothers Band, having split up and reformed a few times through the years, disbanded for good in 2014. By that time, one of the band's guitarists was Derek Trucks, the nephew of Butch, who also performs with his wife in Tedeschi Trucks Band.
In 2012, Trucks earned a Grammy Lifetime Achievement Award along with other members of the Allman Brothers Band. They were inducted into the Rock and Roll Hall of Fame in 1995.
Trucks had been playing in recent years with his own band, Butch Trucks and The Freight Train. He also played with an Allmans tribute band called les Brers and hosted a rock and roll summer camp each year in upstate New York. Trucks' final gig appears to have been with les Brers at NYCB Theatre at Westbury, on Long Island, October 16. Here is a video of "Hot 'Lanta" from that show.
If you're a new Best Classic Bands reader, we'd be grateful if you would Like our Facebook page and/or bookmark our Home page.
Watch Butch Trucks give a drum clinic on how to play "Whipping Post"
And here is an epic live performance…
AXS TV will pay tribute to Trucks with the broadcast of the concert special All My Friends: Celebrating The Songs & Voice of Gregg Allman. Trucks' southern-rock style of drumming is featured throughout the special which airs Thurs., Jan. 26 at 2 a.m. Eastern/11 p.m. Pacifc; Saturday, Jan. 28 at 10 p.m. Eastern; and Sunday, Jan. 29 at 8 a.m/5 a.m.
Don't miss a post. Sign up for Best Classic Bands' Newsletter; form is on every page.

The BCB team brings you the latest Breaking News plus Contests, On This Day rock history stories, retro-Charts and more.

Latest posts by Best Classic Bands Staff (see all)